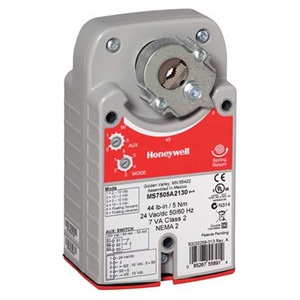 Honeywell MS7505A2030 Actuator
The MS7505 is a 44 lb-in (5Nm), spring return direct-coupled, low voltage actuator that accepts floating, on/off (SPDT), or modulating (0/2-10 Vdc) control and feedback for: air dampers, air handlers, ventilation flaps, louvers, and ball valves.
• Brushless DC submotor with electronic stall protection on all models
• Self-centering shaft adaptor (shaft coupling) for wide range of shaft sizes
• Models available with combined floating and modulating control in a single device
• Models available with an internal end switch
• Access cover to facilitate connectivity
• Durable plastic housing with built-in mechanical end limits
• Spring return direction field selectable
• Shaft position indicator and scale
• UL (cUL) listed and CE compliant
• All models are plenum rated per UL873
We ship this product worldwide! Delivery is normally stock.
Request a Quote now or call us at 1-800-755-2883 for expert assistance.